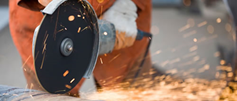 Some Frequently Asked Questions!
Working with handheld power tools in the workplace is for sure a hazard all of its own.  If not used, maintained and inspected correctly the consequential injuries can be horrific.  The training of all operatives is thus an essential part of managing this workplace hazard at ground level.
What is an Abrasive Wheel?
An abrasive wheel consists of compounded abrasive particles used for cutting or grinding purposes.
What are they used for?
Abrasive wheels have many uses but they are generally used for the cutting or grinding of metal and concrete.
What current Health and Safety legislation govern the use of Abrasive Wheels in the workplace?
The 2016 Abrasive Wheels Regulations alongside the Safety, Health and Welfare at Work Act 2007 and General Application Regulations 2007 are the main pieces of health and safety legislation governing the use of abrasive wheels in the workplace.  Part of this warrants the wheel to be suitable for the work being carried out, have an expiry date stamped on the disc itself and notification of the correct speed usage from an RPM perspective.
Who should operate an Abrasive Wheel in the workplace?
At all times within the workplace, only trained and competent persons are permitted to use, operate, inspect and maintain an abrasive wheel apparatus.
What type of injuries might be sustained?
When something goes wrong during the use of an abrasive wheel, it really goes wrong!  Injuries can extend from minor abrasions to serious and life changing injuries.  These can include lacerations, loss of fingers and toes, loss of limbs and loss of eyes.  Most tragic of all can be the loss of life as a result of accidents in the workplace.
Common Misunderstandings
A lot of the time people do not see the danger in using these types of tools in the workplace or indeed beyond.  Guards will be removed without thinking and the wrong discs will and can be fitted to the machine.  Poor maintenance is also a huge factor leading to many unnecessary injuries.
What Personal Protective Equipment (PPE) must be worn?
Each disc will have specific PPE that must be worn during operation and maintenance.  It is critical then that the trained operator ensures that the PPE in use it to the specified standard.  Types of PPE may include goggles, face visors, gloves, safety boots and face masks.
How can we help?
At Essential Health and Safety we can assist you will all aspects of your abrasive wheel requirements.  We can action Risk Assessments and indeed training ensuring the safety of your staff at all times.
Please feel free to contact us for further information:
Office:             045 898060
Linda:              086 8757968
Email:              info@essentialhs.ie